Teammates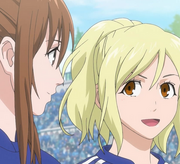 Initially, Mai was very wary of Nana. She wanted to play the same position and best her in matches. After realizing how Nana and Kakeru truly thinks of her, Mai began to treat Nana like a friend, arguably the closest in Nadeshiko Japan. As a forward and midfielder, the two are capable of pulling off complicated passes to secure victory for the team. Even after becoming friends, Mai is still very competitive and wants to beat her.
Friends
Mai is seemingly smitten with Kakeru since she first met him after his match with Shonan High, and playfully calls him "Kakerucchi". She is always trying to get his attention with constant flirting and teasing, and doesn't hesitate to start even when Nana is around. Mai seems to have feelings for Kakeru. As she has betted with Nana on who can go out on a date with him depending on who catches the most fish.
Ad blocker interference detected!
Wikia is a free-to-use site that makes money from advertising. We have a modified experience for viewers using ad blockers

Wikia is not accessible if you've made further modifications. Remove the custom ad blocker rule(s) and the page will load as expected.