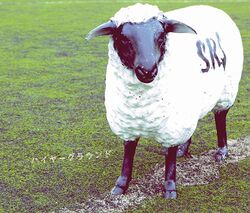 Higher Ground
(ハイヤーグラウンド
Haiyā Guraundo
) is the main opening theme for the Area no Kishi anime. It is sung by the J-Pop band, S.R.S.
Lyrics
bokura risou bakari ga ookiku fukuranda
kakaekirezu tachitsukushita tooi hi no kioku

itsukara nan darou boku jishin wo
heiki de uragiri dashita no wa

SUTOORII no shuyaku ga boku ja nakute mo
ima wo aiseru kai
tsugi no PEEJI wa kimi to boku no te de egaite miyou
ketobashita akikan tondetta

saikin miataranainda
daiji ni shimatteta jibun sekkeizu
PYUA na HAATO de egaita mirai

daiji na mono wo dondon oku e
shimaikonda no mo bokura jishin da yo

HAPPII ENDO ga okimari no you na
DORAMA ja nai kedo
mitsukedashite yare yumemita SUTEEJI made
tsunagatteiku SUTOORII

kininareba soku koudou sa
ashibumi mo chotto wa ii jan
jibun no RUURU dake wa mou yaburitaku wa nai

SUTOORII no shuyaku wo mezashite mireba
miete kuru no wa
tsugi no PEEJI wo kimi to boku no te ga egaiteru koto
ketobashita akikan hiroi ni ikou to mata hashiridasu
owari wa nai sa HAIYAA GURAUNDO
僕ら理想ばかりが大きく膨らんだ
抱えきれず立ち尽くした遠い日の記憶

いつからなんだろう僕自身を
平気で裏切りだしたのは

ストーリーの主役が僕じゃなくても
今を愛せるかい
次のページは君と僕の手で描いてみよう
蹴飛ばした空き缶飛んでった

最近見当たらないんだ
大事にしまってた自分設計図
ピュアなハートで描いた未来

大事な物をどんどん奥へ
しまいこんだのも僕ら自身だよ

ハッピーエンドがお決まりのような
ドラマじゃないけど
見つけだしてやれ夢見たステージまで
繋がっていくストーリー

気になれば即行動さ
足踏みもちょっとはいいじゃん
自分のルールだけはもう破りたくはない

ストーリーの主役を目指してみれば
見えてくるのは
次のページを君と僕の手が描いてる事
蹴飛ばした空き缶拾いにいこうとまた走り出す
終わりはないさ ハイヤーグラウンド
Ad blocker interference detected!
Wikia is a free-to-use site that makes money from advertising. We have a modified experience for viewers using ad blockers

Wikia is not accessible if you've made further modifications. Remove the custom ad blocker rule(s) and the page will load as expected.